Forged Carbon Fiber Plate Matte Finish Forged Composite
Forged carbon fiber is one third as dense as titanium metal but stronger. Like carbon fibre, forged composite carbon fiber can be drilled or get it into the mold, Lamborghini uses forged composite for structural components, and interior trim and seats of its cars, we use it to make forged carbon fiber sheets and plates, and then cut to many different forged products, such as: forged carbon fiber knife, forged carbon fiber ring, forged carbon fiber money clip, forged carbon fiber phone case
Forged Carbon Fiber Plate with Matte Finish Forged Composite
1. Forged carbon fiber plate is made by 100% pure carbon fiber
2. The finish is Matte and the color is black.
3. Light weight, high strength
4. Size: 500*400mm, 500*500mm, 500*600mm
5. Normal thickness 0.5-5mm, customized thickness Max to 20mm.
6. Good looking products of varying sizes and shapes, with enhanced functionality and durability.
Forged carbon fiber is composed of small pieces of carbon fiber composite material that are pressed into shape as the resin cures. This is in contrast to most carbon fiber composites, which are made of larger continuous layers that are 'laid up' one at a time, often manually. Forged composite allows for a higher range of shapes to be formed with precision, relative to traditional carbon fiber.
Forged carbon fiber is one third as dense as titanium metal but stronger. Like carbon fibre, forged composite carbon fiber can be drilled or get it into the mold, Lamborghini uses forged composite for structural components, and interior trim and seats of its cars, we use it to make forged carbon fiber sheets and plates, our forged carbon fiber sheet carries with high tensile strength of light weight, and then cut to many different forged products, such as: forged carbon fiber knife, forged carbon fiber ring, forged carbon fiber money clip, forged carbon fiber phone case and other artwork decoration.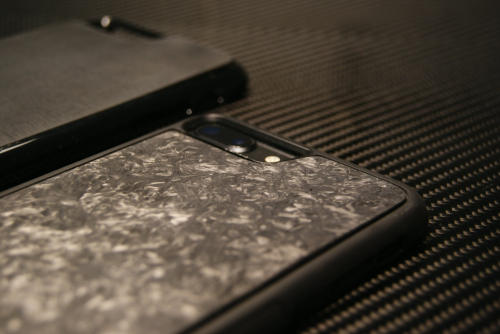 Our service also including CNC cutting, painting/coating, edge rounding and chamfering.
After cutting carbon fiber process, all carbon fiber parts with uniform edge and aesthetic appearance.
Uniform edge and aesthetic appearance, looks modern and high-tech just what you want.
Super Strong Forged Carbon Fiber
Welcome to sample order to test and check our forged carbon fiber quality, mixed samples are acceptable, if you want to get the forged carbon fiber sheet price, you need to know what specifications of carbon fiber plate you need, such as the size, the thickness of the forged carbon sheet. We need to get the basic information before we can quote your price. If you want to cut some forged products or parts, please contact us by email info@jinjiuyi.net.