T800 Carbon Fiber Sheet Super Light Toray T800 24K Carbon Fiber
T800 is the highest strength and high modulus carbon fiber material, with outstanding processing characteristics for filament winding, weaving and prepregging. We manufactured T800 super-light carbon fiber sheets. T800 compared with T700 carbon fiber is lighter and stronger. Now some of our customers buy T800 carbon fiber sheets to cut carbon fiber drone frames.
Product Description
Our T800 carbon fiber sheets inner material is adopted t800 unidirectional cloth prepreg using 0-90-180 degree lamination without any filling materials, The surface material is 2 x 2 3K (3,000 filaments) twill or plain weave carbon fiber prepreg cured under high pressure at high temperature, making them the high strength and flat. 3K weave available twill matte or twill glossy or plain matte or plain glossy finish four finishes, important is T800 carbon fiber is the strongest material and not easy delamination, so more and more carbon fiber project use this T800 to replace T300 or T700 materials to keep their products strength and reduce the weight.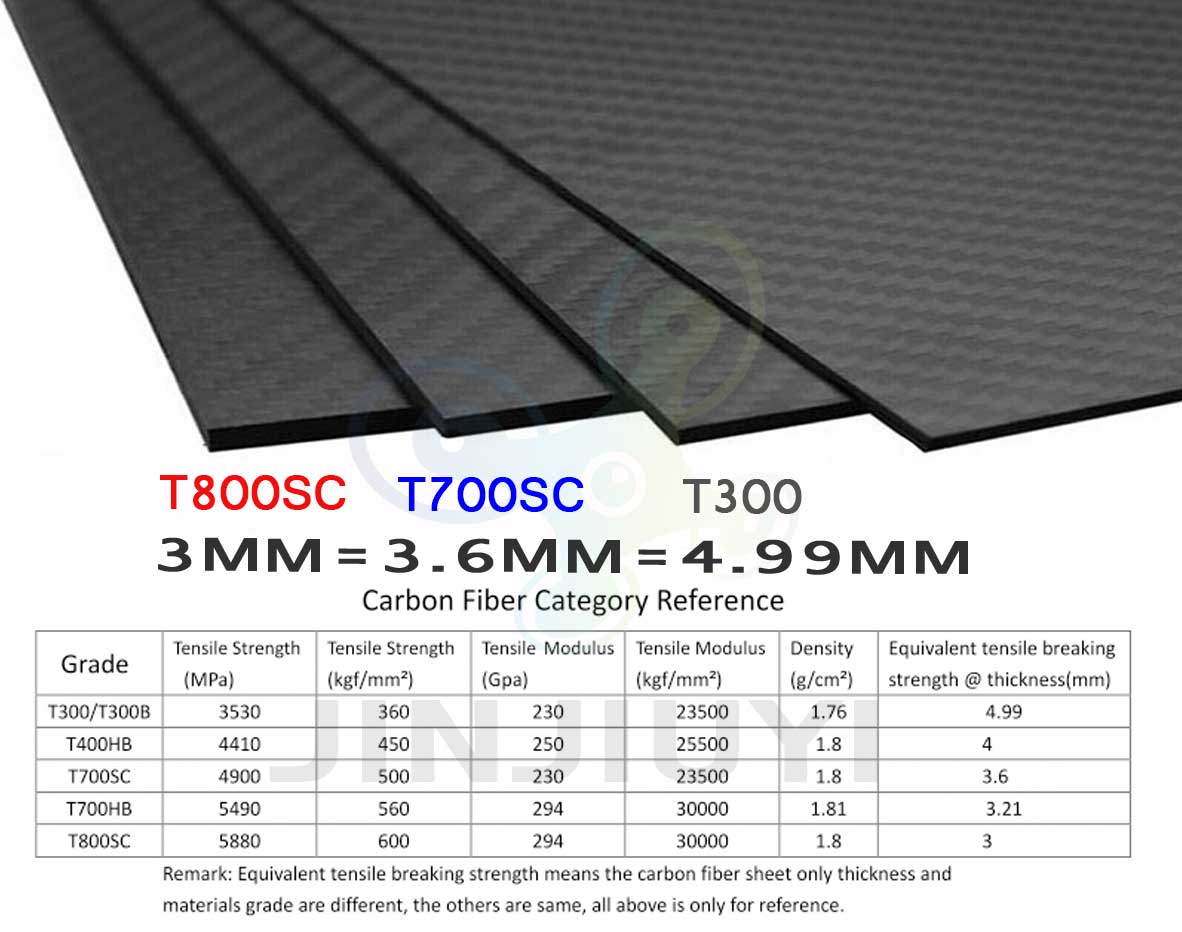 All our t800 carbon fiber raw materials are purchased from Toray company. We use multiple layers of high-strength t800 unidirectional cloth to manufacture the T800 carbon fiber sheet under high temperature and high pressure forming process according to the thickness required by customers. Our T800 Carbon fiber sheet standard size: 400 x 500mm, 500 x 500mm,500 x 600mm. The thickness from 0.5mm to 25mm is available. We also customized according to your size and provide CNC cutting services.
Product Features
T800 carbon fiber properties:
T800 carbon fiber composite material is the highest strength and high modulus and low density, so It has been widely used in the field of advanced composite materials, such as aerospace, defense and military industry, which is made by dry jet wet spinning technology. The T800 carbon fiber density is 1.8 g/m3, the tensile strength is 5880 Mpa, the tensile modulus is 294 Gpa respectively.
Jinjiuyi uses this Toray T800 carbon fiber with the highest tensile strength and highest strain to produce carbon sheets, they have followed functions:
| | |
| --- | --- |
| Functions | Parameters |
| Size | 400 x 500mm, 500 x 500mm,500 x 600mm,1000 x 1000mm |
| Thickness | 0.5mm/1mm/1.5mm/2mm to 25mm |
| Material | T800 Carbon fiber material |
| Pattern | 3K |
| Weave | Glossy / Matte |
| Finish | Twill / Plain |
| Color | Black or custom color |
| Service | custom to your size and CNC cutting service |
Carbon Fiber Category Reference
Grade

Tensile Strength

(MPa)

Tensile Strength

(kgf/mm²)

Tensile Modulus (Gpa)

Tensile Modulus

(kgf/mm²)

Density (g/cm²)

Equivalent tensile breaking strength @ thickness(mm)

T300/T300B

3530

360

230

23500

1.76

4.99

T400HB

4410

450

250

25500

1.8

4

T700SC

4900

500

230

23500

1.8

3.6

T700HB

5490

560

294

30000

1.81

3.21

T800SC

5880

600

294

30000

1.8

3
Remark: Equivalent tensile breaking strength means the carbon fiber sheet only thickness and materials grade is different, the others are same, all above is only for reference.
Application
In recent years, as the T800 carbon fiber price is coming down, T800 will more and more replace T700 and T300 as a new generation of universal carbon fiber, If you want to reduce your products weight, the T800 carbon fiber is your best choice.
As T800 carbon fiber sheet is not easy delamination, which is wildly used for:
1. FPV/UAV drone frames
2. Robot arms, for improving the production efficiency
3. RC car chassis, wheels.
4. Cutting to various carbon fiber parts and products.
5. High-end sports equipment and surface decoration.
Inquire Now