Carbon Fiber Board Custom Carbon Fiber
Our carbon fiber boards and tubes are made from 100% real carbon fiber fabric and epoxy resins which imported from Japan. Our main products: carbon fiber sheets, carbon fiber tubes, custom carbon fiber products, carbon fiber CNC cutting. Best quality and cheap price carbon fiber products for you.
Product Description
High Quality Carbon Fiber Boards Manufacturer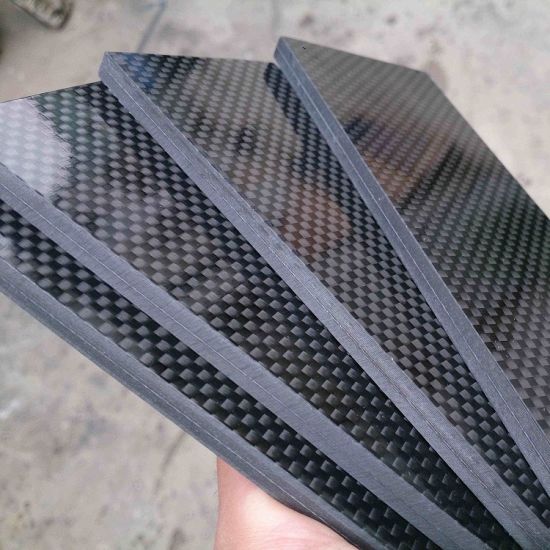 Product Description
1. Carbon fiber boards are 100% pure carbon fiber

2. Carbon board made by carbon fiber fabric and epoxy resins.
3. The finish could be made Glossy and Matte.
4. The weave could be made Plain or Twill.
5. Light weight, high strength
6. Size: 500*400mm
7. Normal thickness 0.5-5mm, customized thickness Max to 30mm.
8. Make sure stable and precise dimensions, cut should by CNC machine.
Check our standard available sizes: carbon fiber sheets and plate
Product Features
Surface density: 1800g/m2
Resin content: 42%
Fiber content: 1050g/m2
Fiber volume content: ≥65%
Thickness: 0.2-60±0.05mm
Tensile strength: 2950/N/mm2
Modulus of elasticity: 185000N/mm
Application
Carbon Fiber Board Applications:
1. Carbon fiber sheet is widely used in FPV racing and UAV racing.
2. Cell phones, portable computers.
3. Automated machine arms and robotics
4. High-end sports equipment and surface decoration
5. Medical device
We are a carbon fiber sheets manufacturer, we can custom carbon fiber sheet for you, welcome to sample order to test and checking Jinjiuyi carbon fiber quality. Mixed samples are acceptable.
If you want to get our carbon fiber board price, Do not hesitate to contact us: info@jinjiuyi.net.
Inquire Now