DIY Carbon Fiber Wallet Money Clip / Bank Card Holder
1. Introduction
Carbon fiber is a great material for daily usage in the shape of wallets, cardholders, shoes, and musical instruments. Carbon fiber is known for its weightlessness and durability, except for that, it does not only come with a cool outlook but is also very practical.
Carbon fiber is known to be ten times stronger than steel, and its durability is guaranteed to last a lifetime. Before we dive into the process of doing it yourself of a carbon fiber bank card holder, let us list some properties of carbon fiber and why it is best for your wallet and cardholder.
2. Why Choose Carbon Fiber/ Advantages
Like mentioned above, carbon fiber is not only a cool looking material, but it is also very practical and long-lasting life material, let's list some advantages of it.
1. One of the main reason why carbon fiber is used and is famous is because of its "strength and weight. "
2. The material of carbon fiber is extremely resistant to both temperature as well as chemicals; you would be wondering why would you ever need a temperature and chemical resistant wallet? Well, the answer is because have you ever left your wallet inside the car on a hot sunny day or have you spilled a drink on your wallet? If yes, then you would know the answer to it, and why it makes sense to use carbon fiber in a wallet or cardholder.
3. Carbon fiber gets stronger as the tension increases, as the fibers in carbon fiber are sewn or woven together. So, when you pull a carbon fiber sheet, instead of falling apart, it bonds together more strongly.
4. The fibers used are micrometers in size, which means you can put hundreds, thousands, or even millions of fibers together, and they would still be practically weightless.
5. Carbon fiber is told to be a hundred times stronger and nonbreakable than steel, which means, there are a lot fewer chances of you facing breakage of your cardholder or wallet.
3. Types of Carbon Fiber/ Real vs. Fake
When you go on a hunt of Carbon fiber sheets, you will come to know about the two types of finishes being used in carbon fiber sheets, glossy and matte. This is achieved in the application itself, wet or dry. The dry application will achieve a matte finish while the wet application will maintain a glossy finish. The wet application is only slightly heavier than the dry application, but in reality, the weight of this carbon fiber bank card holder is negligible, to be honest.
Some of the things that you would need to keep in mind while going to purchase a carbon fiber bank cardholder aka wallet, or carbon fiber sheets in general if you are planning on making a cardholder yourself. You need to make peace with the fact that carbon fiber sheet is expensive, and you can not buy or make a carbon fiber bank cardholder cheap or in less than $10, keep in mind that if someone sells you carbon fiber in less than $10 or if you are doing a DIY for carbon fiber bank cardholder in less than $10, chances are you are buying fake carbon fiber sheets, since real fiber is expensive.
When you go to purchase a carbon fiber sheet for a DIY bank cardholder project, you may want to know that different fiber sheets vary at different prices. For example, if you are going to buy a fiber sheet that is 90% fiber, it may be a lot expensive from the fiber sheet that comprises of 20% fiber.
4. Procedure
In this part we will teach you how to make a DIY carbon fiber wallet money clip, we will teach you the procedure in a step by step manner, so you get don't get confused and get stuck, let's start!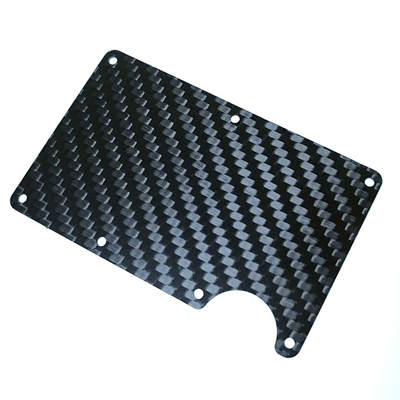 You will need two 1mm carbon fiber sheets, carbon fiber or steel cutter or a pair of tin snips, a money wallet shape cut out (whatever shape you want it to be in).
We will start by placing the two 1mm carbon fiber sheets in twill weave carbon fiber and placing them on a smooth surface, then you will have to pick up a shape template of your style, people usually use normal ones, for the template you would have to Google your desired template and then print it out and then cut it out for basic steps so we can trace it on to the carbon fiber sheet easily.
After you have cut out the template neatly and made sure you did not mess up the shape of the template, line the template on the bottom corner of the carbon fiber sheet carefully, in such a way that the chroma of the carbon fiber sheet can minimize the cutting process we need to do.
After you are done placing the template on the carbon fiber sheet, carefully use a sharpie or a dark marker to mark all the way around the template, keeping in mind the curves and the edges of the templates would not get blind. Repeat this process on the other carbon fiber sheet of 1mm too.
Next, you will need a pair of tin snips or steel cutter to bring the carbon fiber sheets in the shape of your desired bank cardholder, using tin snips would be a great idea for cutting a 1mm carbon fiber sheet but you can also cut out with other stuff like steel cutters, etc. You might also need Dremel tool with a cut off wheel to cut more neatly and efficiently for your use if need be. After you get a rough shape with the tin snip, you would need a filer and normal scissors to finalize the shape completely.
Get a toughie to smooth down the rough and hard edges and on the backside of the carbon fiber wallet by rubbing the toughie on the edges and the back of the carbon fiber sheet.
At this point you can get a rough sketch or approximation of what your carbon fiber money wallet would look like, after checking the sizes of the both of the carbon fiber sheets, you would need to get a 1 inch elastic. Once you've got the elastic, you would have to measure the length of the carbon fiber sheets and need to stretch it slightly to make sure you are about to finish it and wrap it up neatly, then mark the end with a sharpie or a light-colored marker and cut off the excess elastic on the side. Cut off the elastic with a simple pair of scissors.
Now you before you sit down to spend a lot of time on sewing together the elastic, make sure you wrap it on the carbon fiber sheets one last time to make sure the elastic is slightly overlapped, but not too much tightened.
Now grab a needle and some thread to sew the two ends together firmly, so the card out falls out because of the lousy thread or lousy elastic.
Finally, slide the elastic thread on to the notches we cut off the top and bottom of the carbon fiber wallet cardholder. After you are done fastening the elastic in its place, pull a little at the elastic to make sure it does not fall apart or loosens. After you have done testing the elastic band that you have attached to the carbon fiber wallet money clip, place your cards inside the cardholder one by one, making sure you are not putting too much pressure on the elastic, and you are good to go!