Why use M3 black press nuts?
This M3 black press nut is designed with a 0.5mm threaded interior that is compatible with M3 screws, bolts, or studs. The nut is manufactured using high-grade steel material that offers superior strength and durability. The exterior of the nut is coated with a black oxide finish that not only enhances its aesthetic appeal but also provides exceptional corrosion resistance. The nut has a compact design that allows it to fit easily into tight spaces and makes it perfect for use in small electronic devices.
Usually, we cut the standard holes diameter 4.55 mm for the drone frames.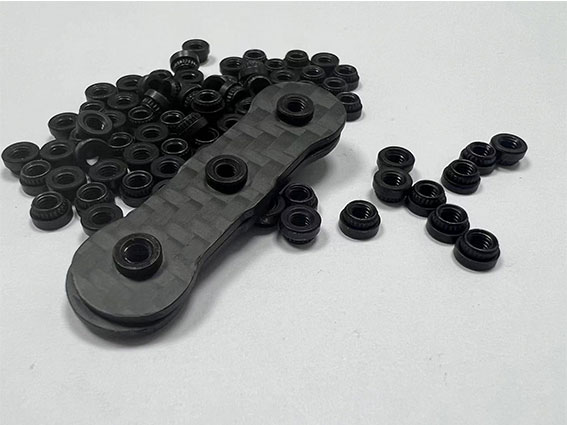 Thread Size: M3
Material: Steel
Finish: Black Oxide
Type: Press-Fit
Min. Sheet Thickness: 1.53mm
Hole Size in Sheet 4.55mm
Thread Pitch: 0.5 mm
Outer Diameter (OD): 5.56 mm
Height: 3 mm
M3 black press nut applications
Our black M3 press nut is versatile and suited for use in various applications, such as:
Carbon fiber frames for FPV drones
Electronic Devices: It is perfect for use in electronic devices where small and compact fasteners are required.
Automotive Industry: The nut can be used in the automotive industry, particularly in engine compartments, transmissions, and suspension systems.
Aerospace Industry: The nut's high strength and durability make it suitable for use in the aerospace industry, especially in aircraft engines and avionics systems.
In conclusion, the Black M3 Press-Fit Nut is a top-quality fastener that offers superior strength, durability, and corrosion resistance. Its compact design makes it ideal for use in tight spaces, while its black oxide finish enhances its aesthetic appeal. The nut is versatile and perfect for use in electronic devices, automotive, aerospace, and other industries where high-strength fasteners are required.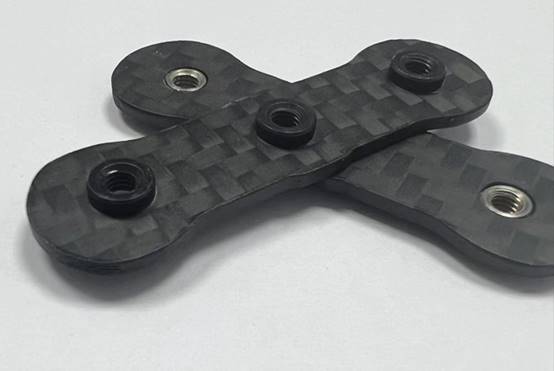 We have black and silver press nuts. If you need stainless steel original color compression nuts, you can check our silver press nuts here. They only have differences in color, and the diameter of the holes on the board is exactly the same as the height of the nuts.