2021 Best CORVETTE C8R SIM Racing Wheel Plate DIY
Our corvette C8 R sim racing steering wheels are made of real carbon fiber, usually our customers chose 3mm or 4mm thickness carbon fiber.
Getting a carbon fiber corvette C8 R steering wheel can really set your ride off with a custom look. No matter the color of your vehicle, carbon fiber steering wheels simply go with everything. You'll get a totally custom look no matter which carbon fiber C8 R steering wheel you choose!
Product Description
Jinjiuyi carbon fiber team manufactures extremely lightweight and robust components of composite materials for sim racing games, including the sim steering wheel plate for the corvette C8 R. Your hands on the wheel, the car in neutral, when you taps the gas pedal. The engine roars. Over six hundred horses, a whole herd champing at the bit to take off galloping, all this is like entering a real F1 track, making you excited.
Build quality:
Our corvette C8 R racing steering wheels are made of real carbon fibre, they are not perfect, but really good. These steering wheels make the use of carbon-reinforced composites a no-brainer. They're 40 percent lighter than aluminum. The noble and unparalleled texture of carbon fiber has attracted countless virtual racing enthusiasts. Because the Corvette C8 R car uses a lot of carbon fiber components on the body, the use of carbon fiber sim racing wheels in virtual racing is the yearning of many enthusiasts. This feeling is like you driving this C8 R car on the F1 track.
Our Corvette c8 racing simulator steering wheel can be equipped with carbon fiber shifter paddles. It is the favorite of the most DIY projects who can build a simulated racing car and drive iRacing at home, it will be the best sim racing wheel.
Considering the production time in producing the custom carbon fiber steering wheels, we ask for your patience. Usually, it will expect 8-12 workday delivery time after purchase.
Product Features
Type:DIY sim racing steering wheel
Item: Corvette C8 R
Size: 299.48*160.93mm
Thickness: Machined out of high quality 3mm / 4mm carbon fiber.
Layup: Twill Weave
Finish: Matte
Options: Carbon fiber shifter paddles
Also you can order plain matte or other finish carbon.
What we make is only steering wheel carbon fiber plate.
For PC or Console use only.
Application
Your SIM steering wheel is one of the most important parts of your car with which you interact the most. That is why our team is putting the highest effort and combines the highest quality materials and craftsmanship into a unique and satisfactory upgrade which you will enjoy every time you step into the car.
Great build quality and craftsmanship with jinjiuyi carbon sim racing wheels and you can feel it when you have one in your hands. You would definitely buy other racing wheels from jinjiuyi and hope that we will make more DIY steering wheels in the future.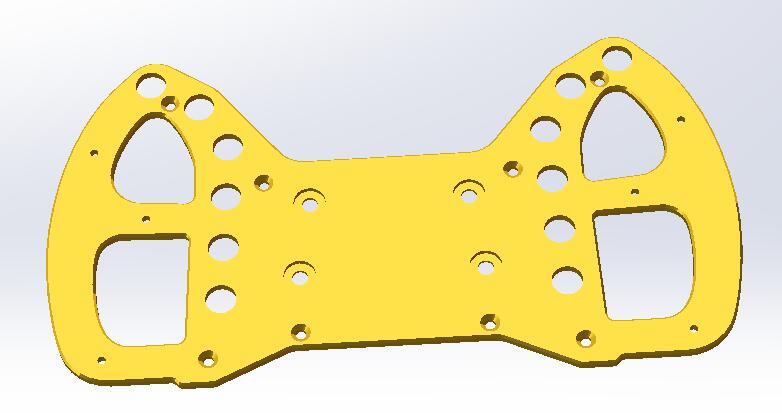 Steering Wheel custom choices and options include:
Full carbon fiber sim game steering wheel
Carbon fiber paddle shifters.
Inquire Now