Cap Head Screw Washers Details:
We produce and sell cap head washers for M2/M2.5/M3/M4/M5/M6/M8 socket head screws for RC parts and FPV frames. These washers provide additional support and protection, ensuring a tight connection between the screw and related components. Our aluminum washers are designed to withstand high pressure and high temperatures, while also offering excellent corrosion resistance. If you need more information or have any questions, please feel free to contact us.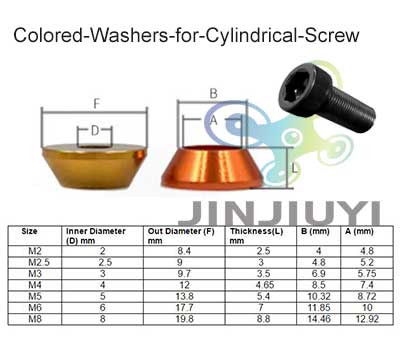 1. Surface anodizing treatment, CNC processing, light weight, antistatic, high-grade appearance, bright colors.
2. 11 Colors: red, black, silver, purple, green,orange, deep blue, light blue, gold, pink, gray.
Product Description:
Product Name: Cap Head Washers
Type: Cap Head
Head Style: Flat
Standard: Metric
Material: Aluminum alloy 6061
Surface treatment: anodic oxidation
Color: Royal blue, Green, Golden, Dark Red, Black, Silver, Purple, Rose Red, Sky blue, Orange (Customers who need other colors, please contact customer service)
Size (inner diameter): M2 M2.5 M3 M4 M5 M6 M8
Tolerance range: ±0.3mm
Customization: support customization
Features: light weight, anti-oxidation, high hardness, many colors.
Use: Computers, mainframe cabinets, RC parts, FPV frames, DIY modification, etc.