Carbon fiber case for iPad mini6: Preciously designed for Mini 6, It will not be compatible with other iPad Models, The four-sided design can provide better protection for your iPad Mini 6 8.3-inc (with the protective cover, Keyborad and Pencil cannot be placedPrecisely cut allow to easily reach all ports, sensors, speakers, cameras. With a thickness of only 0.06 inches (1.5mm), the slim, snug fit of the 8.3-inch case protects your iPad Mini 6 from scratches and daily wear and tear.
Carbon fiber case for iPad Pro 11inch and 12.9 inch 2021& 2022 (3rd, 2nd st Generation): Carbon Fiber Case Ultra Thin Matte Black, Supports Apple Pencil Wireless Charging, Absorbs Shock.
Compatible with iPad Pro 11 and 12.9inch Case 2021& 2022, using real carbon fiber 1.5MM thick carbon fiber plate + TPU lining soft shell enhances protection and high strength anti-bending, effectively preventing iPad pro from scratching. The soft edge of the protective case TPU is 2.5MM higher, which solves the problem that you need to protect the screen. New design 1.5MM thick carbon plate + TPU lining soft shell combination to gives your iPad more secure protection.
The side frame increases the magnetic charging position of the "iPad Pencil", and the heightening design of the camera can effectively protect the lens from scratches.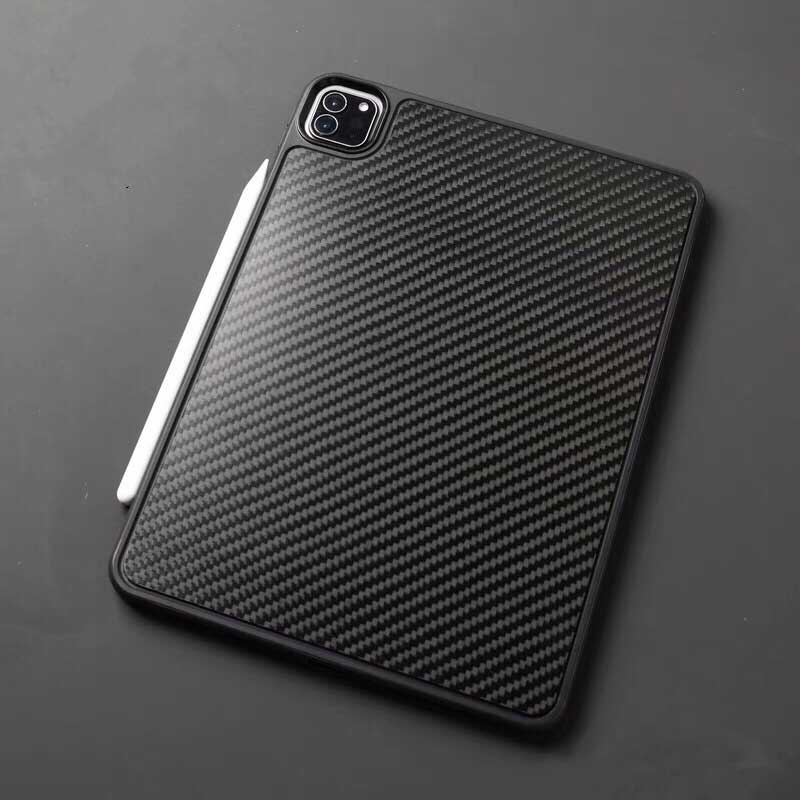 Our High quality carbon fiber ensures the case is durable, and scratch-resistant, and protects your Phone from daily wear and tear. The raised ring offers protection to the iPad camera lens. It is also compatible with most tempered glass screen protectors.
Please find the model number and choose the right case for your iPad.
1. Smooth-textured surface handmade by 100% real carbon fiber material
2. It does not contain any metal components. No interference to GPS, WIFI, signals or wireless charging.
3. Device specific cutouts for access to all features
4. Intelligent design offers complete access to all of the for controls
5. Ultra Lightweight, Slim, Super thin - for the user that wants to enjoy the Phone's feel and beauty, Feather-light.
We can custom carbon fiber case & skins for below models:
Apple iPad Pro 12.9-inch (2021) - A2379 A2461 A2462
Apple iPad Pro 12.9-inch (2020) - A2229 A2069 A2232 A2233
Apple iPad Pro 11-inch (2021) - A2301 A2459 A2460
Apple iPad Pro 11-inch (2020) - A2228 A2068 A2230 A2231
Apple iPad mini 6 (2021) 8.3-inch - A2567 A2568 A2569
Please contact us or send email info@jinjiuyi.net to get quote when you purchase carbon fiber case for iPad mini6 or Pro.