Roll Wrapped Carbon Fiber Round Tube Plain Gloss
Our plain gloss carbon fiber tube is roll wrapped from unidirectional carbon fiber with a 3k plain glossy carbon fiber fabric outer layer. They not only offer a beautiful surface but also excellent torsional characteristics, as well as crush strength, and are ideal for high torque applications. This round tubing is ideal for building lightweight frames and structures, tubular vessels, poles, column supports, and any other application where low weight and high stiffness are essential and appearance is also important.
Our roll wrapped carbon fiber round tubes come in various diameters, lengths, and thicknesses, If you want to buy a large diameter carbon fiber tube or any other specific carbon tube, do not hesitate to contact us, we offer custom carbon fiber tube for you.
Product Description
What carbon fiber tubes we supply?
Carbon fiber round tube Is rolled unidirectional carbon fiber fabric into a mandrel, and roll wrapped a 3k plain gloss finish fabric exterior. Unidirectional carbon fiber is the structural backbone of all our tubes, the fabric weave that gives carbon fiber tubes their traditional "carbon fiber look" is only the outside layer and helps with durability. Usually, any wall thickness can be made by changing the number of layers or combining different prepreg thicknesses (0.15mm- 0.25mm thick per layer), Our tubes typically use layups designed for optimal performance in a wide range of conditions. We use 100% real carbon fiber materials making carbon fiber tubing in a wide variety of diameters and lengths. Common carbon tube diameter includes 4mm carbon fiber tube, 6mm carbon fiber tube, 8mm carbon fiber tube, 10mm carbon fiber tube, ... 30mm carbon fiber tube, our round tube standard length is 1000mm, If you need a carbon fibre tube with other lengths or diameters, or need colored carbon fiber tube, do not hesitate to contact us, we can cut and custom carbon fiber tubes to your specified.
We offer multiple finishes with standard modulus carbon fiber tube offers excellent strength and stiffness, It is 1.5X stiffer than aluminum and is the most economical grade.
Carbon fiber tube stock.
Even we are carbon fiber tube manufacturer, we don't really "stock" tubing. There are so many different wall thicknesses and length options that most tubing is custom built for the application. What we do consider stock, is tubing sizes that we already have a mandrel for (tooling). After picking a mandrel, we will engineer a laminate and build the tubing to your specs. Your order can usually be accomplished in about a week.
How to work with us?
Simply, send us an email, tell us what's the diameter and length of your carbon fiber tubes, what finish and weave tubes you want, we will quote the carbon fiber tube price at the first time.
Here is our roll wrapped carbon fiber tubes diameter specifications:
Outer diameter x Inner diameter
| | | | | |
| --- | --- | --- | --- | --- |
| 1.8mm x 1.0mm | 2.0mm x 1.0mm | 2.5mm x 1.5mm | 3.0 mmx1.5mm | 3.0mm x 2.0mm |
| 3.5mm x 2.0mm | 4.0mm x 2.0mm | 4.0mm x 2.5mm | 4.0mm x3.0mm | 4.5mm x 2.5mm |
| 4.5mm x 3.0mm | 5.0mm x 3.0mm | 5.0mm x 4.0mm | 5.5mm x3.5mm | 5.5mm x 4.0mm |
| 6.0mm x 4.0mm | 6.0mm x 4.5mm | 6.0mm x 5.0mm | 7.0mm x 5.0mm | 7.0mm x 6.0mm |
| 8.0mm x 6.0mm | 8.0mm x 7.0mm | 8.5mm x 6.5mm | 9.5mm x 7.5mm | 10.0mm x 6.0mm |
| 10.0mm x 8.0mm | 10.0mm x 9.0mm | 12.0mm x 8mm | 12.0mm x 10.0mm | 16.0mm x 12.0mm |
| 16.0mm x 14.0mm | 18.0mm x 16.0mm | 20.0mm x 16.0mm | 20.0mm x 18.0mm | 25.0mm x 20.0mm |
| 35.0mm x 30.0mm | | | | |
If you need a large diameter carbon fiber tube or want to get our carbon fiber tube price, please tell us.
Product Features
Carbon fiber round tube properties:
High strength-to-weight and stiffness-to-weight ratios
Resistance to fatigue
Dimensional stability due to an extremely low coefficient of thermal expansion (CTE)
100% high quality pure carbon fibre (aka full carbon).
Pin-hole free high-gloss cosmetic surface.
Wide range of diameters and tube lengths available.
Offer carbon fiber tube cutting service according to your design drawings, Cut to dimensions with CNC machining center – which ensures stable and precise dimensions.
Application
Carbon fiber tube applications:
Unique properties of carbon fiber tubes place them in high demand in many industries. More and more often these days, carbon fiber tubes replace steel, titanium, or aluminum tubes in applications where weight is an important factor. Weighing in at as little as ⅓ the weight of aluminum tubes, it's no wonder that carbon fiber tubes are often the preference in industries such as aerospace, high-performance vehicles, and sporting equipment, where weight is a crucial factor.
Carbon fiber tubes can be used for many tubular applications. Some current common uses include: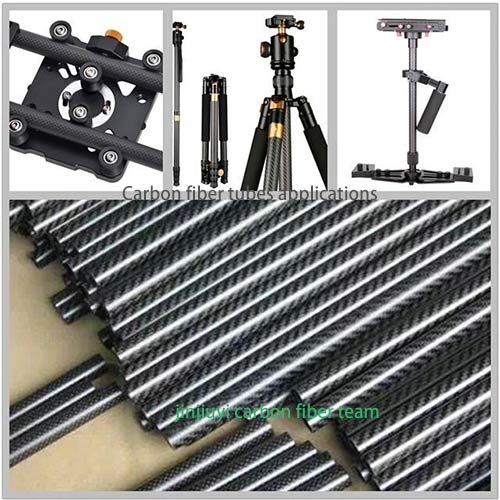 Carbon fiber tubes for rc planes
Robotics and automation
Telescoping poles, carbon fiber trekking poles
Metrology instrumentation
Idler rollers
Drone components
Telescopes
Lightweight drums
Industrial machinery
Guitar necks
Aerospace applications
Formula 1 race car components
How to use carbon fiber tubes?
1. Drilling holes on tubes, and using screws locking together.
2. Carbon fiber tube connectors and accessories.
Use connectors and accessories to connect our carbon fiber round tubes together to form complex rigid structures. It's easy and quickly assemble and disassemble tubing structures, suit for carbon fiber tube DIY project.
Jinjiuyi is able to provide an extensive range of high performance, light weight carbon fiber tubing for use in a wide variety of industries and applications. Available in standard and custom sizes, our lightweight, carbon tubes exhibit outstanding strength, durability and rigidity. They deliver excellent tensile strength characteristics compared to conventional structural metals and are the first choice in a variety of performance applications.
If you want to buy carbon fiber tubes, Please contact us our sales team to discuss your requirements.
Inquire Now