The typical image that comes to mind when you hear the word "pipe" is a spherical tube. Indeed, there is a wide variety of pipes available. There are several pipe shapes outside the standard round pipe, such as square, elbow, rhombic, etc. The quality of our most popular pipes is high. As a result of the current trend toward lightweight designs, carbon fiber composites are being increasingly used in the pipe industry. In this guide, we mainly focus on the appearance and strength of carbon fiber square tubes.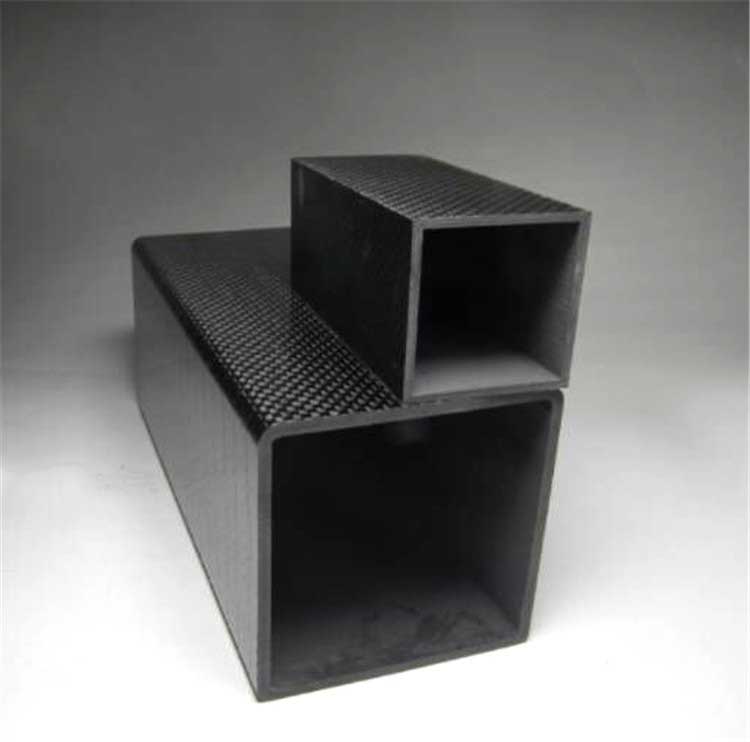 Carbon Fiber Sqaure Tubing Appearance & Strength Guide
Since carbon fiber square tube is a unique form, the first step is to create a core mold that matches the required dimensions of the bespoke pipes. It's important to start with quality work since mold has a significant impact on product quality. Step two involves designing the fiber stacking mode to meet the needs of the specifications. Through strategic paving, carbon fiber may perform at its maximum potential. Rolling the prepared fiber layer onto the mold is the third step before baking and hardening the final product from OPP Fine Organic Chemical Factory. After that's done, you may take out the inner core mold and peel away the opp. To fix the remaining flaws in the already manufactured carbon fiber square tube, we will be trimming off the lopsided ends and then grinding down the tube body to the required tolerances.
Square Carbon Fiber Tube Appearance
Rolled Prepreg Carbon Fiber Tubes
Carbon fiber tubes made using a roll wrapping technique are called "prepreg." They are made with many wraps of twill and/or unidirectional textiles. Since they offer the highest bending stiffness and the lowest weight, rolled tubes may be found in a wide variety of applications, including but not limited to automated systems, robotics, telescoping poles, idler rollers, and components for unmanned aerial vehicles (UAVs). Additional options for the longer lengths of these tubes include high and ultra-high modulus carbon fiber, as well as exterior materials such colorful Kevlar textiles. A cellophane sheen is the typical, although a sandblasted finish is also available.
Braided Carbon Fiber Tubing
Braided fiber optic cables have a tube made of carbon fiber braid and a unidirectional cloth. Because of their exceptional torsional characteristics and crush strength, they work well in applications requiring a considerable deal of torque. The bending stiffness of these carbon tubes may be increased by using carbon fibers with a greater modulus. The moist, glossy appearance of these tubes is typical thanks to our trademark natural surface treatment. You may get a peel-ply texture finish for easier bonding, or a cello wrap for a more polished look with many of them.
Inner Diameter Carbon Fiber Tubing
Large-diameter carbon fiber tubes are produced by rolling carbon fiber that has been braided in both directions. This tubing may be used for heavy-duty applications, such as those necessitated by the production of lightweight drums or telescopes, despite its low weight. These huge carbon fiber tubes feature a textured feel on both the inside and the exterior, making them perfect for bonding and painting.
Sqaure Carbon Fiber Tubes Strength
Carbon fiber tubes have a performance edge over metal tubes by a factor of 6 to 8. The load-bearing capability of rectangular pipes stands out, whereas the superior compressive strength of circular pipes is clear. For this reason, the most promising areas of use vary. Carbon fiber is versatile, with round tubes being used for things like unmanned aerial vehicle (UAV) walls, racks, sporting equipment, etc., and rectangles being utilized for things like mechanical arms and load-bearing sections. In order to create a carbon fiber tube, the glass fiber is first soaked with resin, which is then hardened in a high-speed photoelectric polymerization apparatus before being pulled and extruded. Polyester glass fiber reinforced plastic, epoxy glass fiber reinforced plastic, and phenolic glass fiber reinforced plastic are all names for this material that come from the resins used to make it. It is strong mechanically, does not conduct electricity, does not degrade with age, can withstand high temperatures, and won't rust or corrode.
8 Sqaure Carbon Fiber Tubes Benefits
1. Very low product bulk and weight (about 1/5 that of copper and 3/5 that of aluminum alloy).
2. High resistance to chemical corrosion; the use of metal in place of other materials helps prevent corrosion and extends the life of the replacement.
3. Long service life, resilience to fatigue, and no permanent deformation all contribute to greater product security.
5. The product's strength, stiffness, and other mechanical qualities are all enhanced by the material's high strength and high modulus, which is around 1.3 times copper and 3.7 times aluminum alloy.
6. Because of their low thermal expansion coefficient, imaging products are unaffected by temperature changes.
7. High conductivity; exceptional conductivity in composite materials
8. Excellent vibration attenuation function thanks to energy absorption and shock absorption.
9. Self-lubrication and wear resistance: maximize self-lubrication to facilitate easy assembly and reduce wear on moving parts.