Carbon fiber cutting for carbon fiber violin
Our 3K carbon plate are all manufactured by our own production works, Any required size and thickness carbon fiber plate we can make for you, our carbon fiber plate are all made by 100% carbon fiber fabric imported from Japan. Flawless weave on different surfaces for option including plain weave, twill weave, glossy and matte.
Product Description
Carbon plate for cutting carbon fiber violin logo
1. Carbon palet are 100% pure carbon fiber
2. Carbon plate made by carbon fiber fabric and epoxy resins.
3. The finish could be made Glossy and Matte.
4. The weave could be made Plain or Twill.
5. Light weight, high strength
6. Size: according to your design
7. Normal thickness 0.5-5mm, customized thickness Max to 30mm.
8. Make sure stable and precise dimensions, cut should by CNC machine.
Check our standard available sizes: carbon fiber sheets and panels .
Product Features
Carbon Plate Characteristic:
1. High strength
2. Good heat resistance
3. Good thermal shock
4. Low thermal expansion coefficient
5. Heat capacity is small
6. The proportion of small steel (1/5)
7. Good resistance to corrosion and radiation performance
Application
Our factory is specialized in the production and sales of carbon plate, carbon tube, carbon fiber cutting products, carbon fiber cnc processing parts, carbon fiber shaped products, carbon cnc processing, Such as:
1. Automated machine arms and robotics
2. FPV drone frame, RC car parts, Helicopters Model Drone
3. Decoration parts for Car, jewelry and furniture
4. Manufacture fixtures and tooling
5. Cell phones case, computer keyboards
6. High-end Sports equipment
7. Musical instruments
8. Scientific apparatus
9. Medical device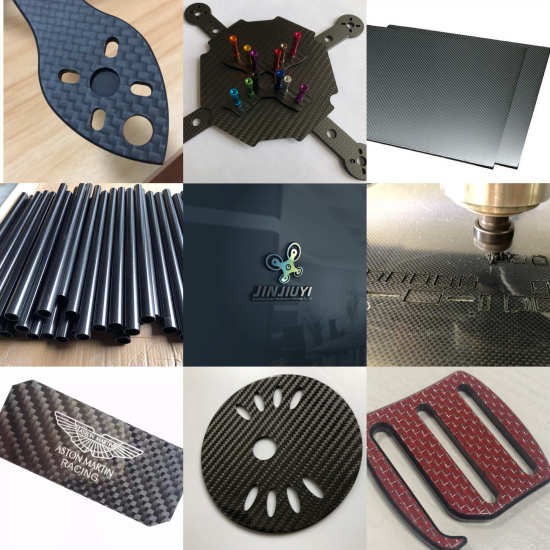 Jinjiuyi Carbon Fiber Products
We can cut variety of carbon fiber crafts with high demand, customized products according to customer's design drawings. And also offer forming, drilling, CNC processing, chamfering, edge rounding and painting one-stop service, do not hesitate to contact us: info@jinjiuyi.net.
Inquire Now